What's the Difference: EQS vs Tesla Model X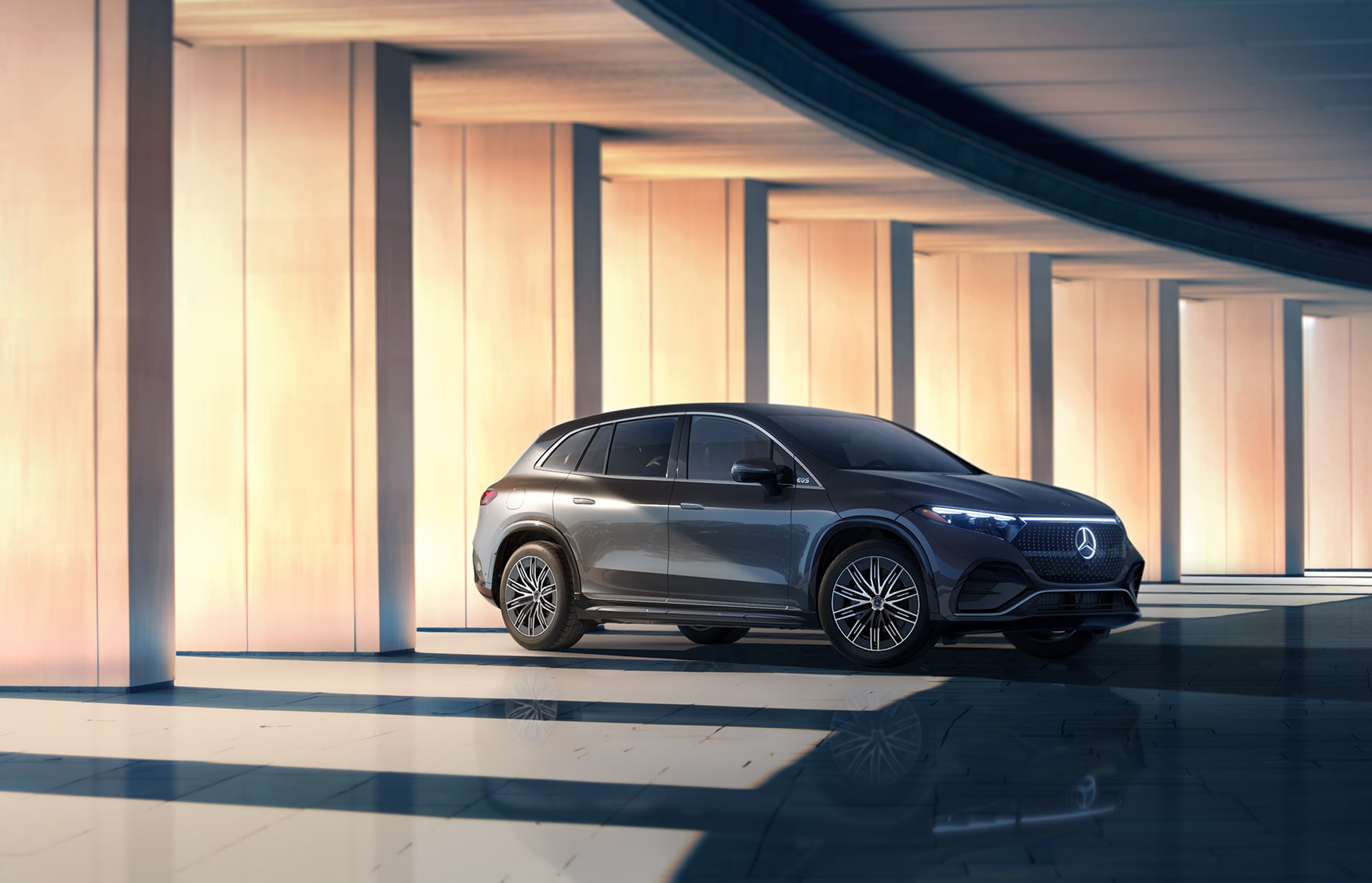 EQS vs Tesla Model X Near Houston, TX
Harris County offers a wide variety of activities for outdoor-loving families to enjoy. And when it comes to road trips, the great state of Texas doesn't disappoint. You can head to San Antonio or the Rayburn Resort on Lake Sam Rayburn. Or you can load up for the ultimate family road trip to Big Bend National Park.

Regardless of your destination, how you get there is half the fun. Fun-to-drive, filled with features to keep everyone happy, and environmentally friendly, maybe it's time to consider an electric vehicle (EV).

The number of luxury electric SUVs on the market seems to increase every day. We've chosen two of the most impressive models and created this guide to help you compare the pros and cons of each.

We compare the EQS vs Tesla Model X in important categories such as performance and efficiency, safety and driving assistance, and infotainment and technology.


EQS vs Tesla Model X
Features
EQS SUV
Tesla Model X
EPA-Estimated Range
285-305 Miles
333 Miles
Engine
Electric
Electric
Charging Options

Level 1 Compatible with a 120V
Level 2 ChargePoint Home Flex Compatible with a 240V
ChargePoint and EVGo Charge Station

Tesla Wall Connector
Mobile Connectors compatible with a 120V or 240V outlet
Tesla Supercharger
Destination Charging

Charge Time
10-80% in 31 minutes
175 miles in 15 minutes
Drivetrain
AWD or RWD
AWD
Battery
108.4 kWh Usable Capacity
250 kWh Usable Capacity
EQS vs Tesla Model X
Roomy and brimming with sophistication, the new EQS from Mercedes-EQ blends the aerodynamic design of a futuristic electric vehicle with the timeless craftsmanship and athletic engineering you expect from Mercedes-Benz.
The EQS interior takes elegance to entirely new levels with supple, hand-stitched leather front and rear seats. Heated and ventilated multicontour front seats include massage functionality. A spacious second row offers power recline and fore-aft adjustments to comfortably accommodate any adult.
The largest vehicle in Tesla's model lineup, the Model X has a thoughtfully, although minimalistic, designed interior that offers plenty of room for drivers and passengers. The substantial cabin space seems even more cavernous thanks to the Model X's panoramic windshield, which is currently the largest in the world.
Keeping with the minimalist theme, the tri-zone climate control of the Model X has hidden vents. Ventilated front seats and a HEPA filtration system come standard.
The EQS is available in three trims: the EQS 450+, EQS 450 4MATIC®, and EQS 580 4MATIC®. All three have standard five-passenger seating with an optional third row for seating up to seven. The second-row EASY-ENTRY feature allows you to move the seats forward almost 12 inches with the push of a button, allowing easier access to the third row.
The main difference between the two available variations of the Tesla Model X are seating configurations and engine output. The base Model X can be outfitted to seat five, six, or seven passengers. The Model X Plaid only comes with seating for six.
Now, let's break down the differences between the EQS vs Tesla Model X in more detail.
Performance and Efficiency
EQS Performance
With groundbreaking all-electric capabilities and performance, the EQS adds unrivaled luxury to the electric SUV class of vehicles.
Advanced permanently excited synchronous motors (PSMs) deliver swift, seamless torque to the EQS powertrain. The rear-wheel drive (RWD) EQS 450+ is powered by a single PSM that generates 355 horsepower. Both EQS 4MATIC® models feature dual PSMs that send 355 horsepower (EQS 450) and 536 horsepower (EQS 580) to the fully variable 4MATIC® all-wheel drive (AWD) systems. The EQS 580 4MATIC® accelerates from 0 to 60 in 4.5 seconds.
The EQS provides top-level ride comfort. The automatic self-leveling AIRMATIC® air suspension adjusts individual wheels to compensate for cargo, passengers, and changing road conditions. Rear-axle steering enhances stability on the open road and maneuverability in tight spaces.
Reinforcing the rich SUV legacy of Mercedes-Benz, the EQS 4MATIC® SUVs have a dedicated off-road mode. The AIRMATIC® suspension can raise the ride height. Electric AWD optimizes torque to individual wheels to reduce slippage. You can monitor steering angle, tilt angle, grade percentage, and more via a dash display.
EQS Efficiency
Battery capacity: 108.4 kWh
Level 3 DC fast charging: 80-percent replenishment in 30 minutes
EPA estimated driving range: 285 to 305 miles*
Intelligent Energy Recovery features three selectable modes to vary energy recuperation
The EQS ECO Assist feature maximizes efficiency and optimizes energy recovery using input from driver assist features, plus GPS, map, topography, and traffic data from the navigation system.
Tesla Model X Performance
Tesla Model X platforms merge electric powertrains and advanced battery technology for an unrivaled combination of performance, range, and efficiency.
Dual AC permanent magnet synchronous motors power the all-wheel-drive system of the Tesla Model X. Peak power for Tesla's Dual Motor platform is 670 horsepower which allows the EV to accelerate from 0 to 60 mph in 3.8 seconds.
The Model X Plaid offers the most power and quickest acceleration in the class. A Tri Motor AWD electric powertrain with torque vectoring produces 1,020 horsepower. This jettisons the Model X Plaid from 0 to 60 mph in only 2.5 seconds and delivers a jaw-dropping top speed of 163 mph.
Independent front and rear motors facilitate lightning-fast response to improve Model X AWD performance and traction in all conditions. Although the Tesla Model X offers an Off-Road Assist feature, it's not truly designed for off-the-beaten-path terrain. The minimal ground clearance alone limits the vehicle's off-road capabilities.
Tesla Model X Efficiency
Battery capacity: 100 kWh
Supercharging Max: Recharge up to 175 miles in 15 minutes with the latest Supercharger technology
EPA estimated driving range: 333 to 348 miles*
Regenerative braking feeds surplus energy back to the battery pack
Charging
EQS
Level 2 AC charging: Charges the battery pack from 0 to 100 percent at 9.6-kW speed in about 12.5 hours with a 240-volt home charging station and can add approximately 30 miles of range per hour at most public charging stations.
Level 3 DC fast charging: A 480-volt fast charger can recharge your battery from 10 to 80 percent at 200-kW speed in 31 minutes.
Mercedes me Charge helps you locate, use, and pay for charging at all major U.S. charging stations. Get two years of 30-minute sessions at Electrify America DC fast chargers when you purchase or lease a new EQS from Mercedes-Benz of Houston North.
Tesla Model X
110V Mobile Connector Bundle: Plugs into any standard power outlet for recharging between 3 miles of range per hour up to 30 miles of range per hour, depending on the adapter.
220V Tesla Wall Connector: Adds up to 44 miles of range per hour (installed where you regularly park your vehicle).
Tesla CCS Combo 1 Adapter: Compatible with third-party charging stations, the adapter provides charging speeds up to 250 kW.
Supercharger: Recharge for up to 175 miles of range in 15 minutes at any of the 40,000+ locations in Tesla's Supercharger network.
Tesla's Trip Planner automatically calculates the most efficient route that includes Supercharger stations when you input your destination on the touchscreen.
Safety and Driving Assistance
The EQS comes equipped with a generous list of standard safety features. These include:
LED Daytime Running Lamps
Car-to-X Communication
DISTRONIC® adaptive cruise control
Front and Rear Cross-Traffic Alert
Automatic emergency braking
PRE-SAFE®
PRE-SAFE® Sound
PRE-SAFE® PLUS
PRE-SAFE® Impulse Side
Surround View System
Adaptive braking technology
Brake Assist (BAS)
Electronic Stability Program (ESP®)
Rain-sensing windshield wipers
You also get a full suite of active driver assist technologies such as:
Active Steering Assist
Active Brake Assist
ATTENTION ASSIST®
Crosswind Assist
Active Blind Spot Assist
Evasive Steering Assist
Active Lane Keeping Assist
Active Lane Change Assist
Active Brake Assist with Cross-Traffic Function
Active Emergency Stop Assist
Active Speed Limit Assist
Active Stop-and-Go Assist
To drive the Tesla you've heard all the hype about (the one that drives itself, parks itself, and can be called to meet you at the mall entrance), requires the Full Self-Driving Capability package. Full Self-Driving Capability includes the features available with Basic Autopilot which is standard on every Tesla. It includes:
Lane Assist
Lane Departure Avoidance
Automatic Blind Spot Camera with Collision Warning
Forward Collision Warning
Automatic Emergency Braking
Obstacle-Aware Acceleration
Speed Assist
Full Self-Driving Capability also includes everything you get with Enhanced Autopilot:
Navigate on Autopilot
Auto Lane Change
Autopark
Summon
Smart Summon
In addition to these features, the Model X also comes equipped with Traffic Light and Stop Sign Control. Full Self-Driving Capability costs an additional $15,000 to the vehicle's starting MSRP.
Infotainment and Technology
When comparing the multimedia features of the EQS vs Tesla Model X, it becomes immediately apparent that Mercedes-EQ follows in step with the automaker's legacy. The EQS is bursting with Mercedes-Benz industry-leading innovations. From "Hey, Mercedes" keyword activation for Mercedes-Benz User Experience (MBUX) and Voice Control with Natural Language Understanding to biometric authentication and zero-layer menu tech, the EQS is at the forefront of infotainment and technology.
Additional standard features include:
12.8-inch OLED central touchscreen
MB Navigation with Electric Intelligence
MBUX Augmented Video for Navigation
Route-based Speed Adaptation
Over-the-air software updates
Hands-free Bluetooth®** interface
Wireless Apple CarPlay® and Android Auto™
Online Music Streaming
Six USB-C charging ports
SiriusXM® six-month trial subscription
Burmester® 3D Surround Sound System with Dolby Atmos®
Front-cabin wireless charging with NFC pairing
An all-new MBUX Hyperscreen is exclusive to the EQS 580. The MBUX Hyperscreen merges multiple digital displays within a single 56-inch span of high-tech glass.
With the largest center display touchscreen on the market at 17 inches, one might assume that Tesla's list of entertainment, multimedia, and technology features is just as impressive. It seems the minimalist approach continues in the tech category.
Standard Model X features include:
Voice-command capabilities
12.3-inch driver's display
Eight-inch second-row display
Wireless and USB-C fast charging
Media Player for music streaming services
SiriusXM® satellite radio
Internet Streaming Radio
Multi-device Bluetooth®** connectivity for music and media
Premium 22-speaker, 960-watt audio system with Active Road Noise Reduction
10-teraflop gaming computer with wireless controller compatibility
All Tesla models lack Apple CarPlay® or Android Auto™ compatibility.
Shop EQS Near Houston, TX
The EQS is priced to compete with other high-end luxury electric SUVs such as the BMW iX M60, the Porsche Taycan Turbo S, the Audi e-tron® GT, and, of course, the Tesla Model X.
At
Mercedes-Benz of Houston North
, we believe that financing any luxury vehicle should be a simple, hassle-free experience. From down payment and loan term options to exclusive Mercedes-Benz lease programs, our finance team can design a finance package specifically tailored to your preferences.
Serving
Houston
,
Spring
, and Harris County, our Mercedes-Benz of Houston North finance experts are ready to answer all your auto loan and leasing questions.
Our relationship doesn't end after you drive away from our Mercedes-Benz dealership. A vehicle as meticulously crafted as the EQS deserves exceptional service. Our factory-trained TechXperts are familiar with all the nuances of
new
or
pre-owned
electric cars
and SUVs, including regular maintenance and warranty work.
Committed to providing a seamless and hassle-free experience, the sales team at Mercedes-Benz of Houston North is here to answer all your electric vehicle buying questions.
When you're ready to purchase a 2023 EQS, we'll help you design and custom order the EQS that's perfect for you. Perhaps you'd like to learn more about how the EQS vs Tesla Model X compares. Give us a call, or stop by our luxury showroom.
*Preliminary EPA-estimated figures are for comparison purposes only. Your actual mileage will vary, depending on speed, driving habits, trip length and driving conditions; actual mileage may be lower. Note for MPGe: All data are provisional and subject to official confirmation. The provisional power consumption figures have been calculated based on the ECE test cycle.
**Bluetooth® is a registered mark Bluetooth SIG, INC.